Warning: Creating default object from empty value in /var/www/playbyplayspottingboards.com/blogs/inc/settings/model/_abstractsettings.class.php on line 334 Thanks For Your Interest In Play-By-Play Spotting Boards.Com
Warning: Creating default object from empty value in /var/www/playbyplayspottingboards.com/blogs/inc/settings/model/_abstractsettings.class.php on line 304 Strict Standards: Declaration of smilies_plugin::GetDefaultSettings() should be compatible with Plugin::GetDefaultSettings(&$params) in /var/www/playbyplayspottingboards.com/blogs/plugins/_smilies.plugin.php on line 0 Strict Standards: Declaration of smilies_plugin::GetDefaultUserSettings() should be compatible with Plugin::GetDefaultUserSettings(&$params) in /var/www/playbyplayspottingboards.com/blogs/plugins/_smilies.plugin.php on line 0 Strict Standards: Declaration of auto_p_plugin::GetDefaultSettings() should be compatible with Plugin::GetDefaultSettings(&$params) in /var/www/playbyplayspottingboards.com/blogs/plugins/_auto_p.plugin.php on line 0
If you're like me, you spend A LOT of time preparing for a broadcast. In football, nothing takes more time than creating your spotting board (also called spotting charts, flip charts, radio boards, tv boards or depth charts). "Old School" announcers still like to write out their boards. Me, I figure if I'm using a highly technical electronic device to get the audio back to the station...why would I use pen and paper to WRITE a spotting board?
I first started working with a computerized spotting board about 2000. Now, I use a web-based, mysql database driven, spotting board. What is mysql? Imagine a web server-based Microsoft Excel spreadsheet.
Here's a sample of what the layout looks like.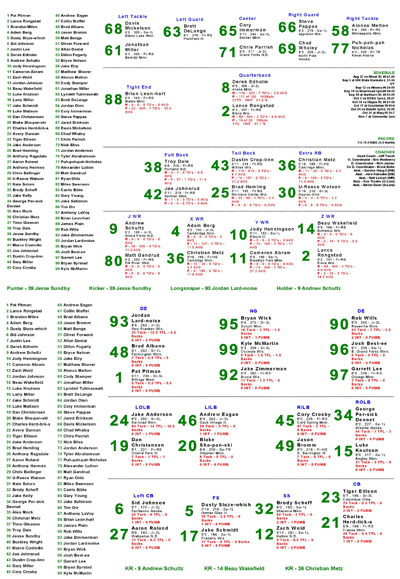 Click on the image for the full sample.
What that means for you is that you can copy-and-paste the roster from the schools website and put that into the database...fill in a few numbers online...and you have a spotting board (complete with stats) in about 15 minutes!
The best thing, all font sizes and colors are customizable...and you don't need to know ANYTHING about mysql in order to use this system!
At playbyplayspottingboards.com, we will do all the technical stuff for you. We will "host" your pages on our server...and give you access to the database so that you can be "up and running" in less than a half an hour.
Plus, we'll be able to answer any questions you may have. We provide this service for just $50 a year (that's less than $5 per game)!
If you have the technical expertise and have your own domain name and website...you can purchase the code for the software for $200...and you can use the system for many, many years to come for no additional cost!
There are other methods of doing spotting boards on the computer...some that even import the stats for you. Of course, they don't work with small colleges or high schools...only the BIG TIME jobs...and they cost upwards of $400 per season! Of course, if you had a BIG TIME job, you wouldn't have to read the birthdays in the morning, do a remote at the local hardware store at noon...and STILL GET TO A GAME AT 7PM that night!

If you are doing high school or small college football play-by-play, this is for you!
If you have any questions, just click on CONTACT above.
Warning: Creating default object from empty value in /var/www/playbyplayspottingboards.com/blogs/inc/settings/model/_abstractsettings.class.php on line 334
Deprecated: Assigning the return value of new by reference is deprecated in /var/www/playbyplayspottingboards.com/blogs/skins/_item_feedback.inc.php on line 156